Overview: This article discusses the steps to access your camera remotely when outside of your network using DDNS and port settings.
tep 1: Set up a static IP address for the camera.

Login to the camera web page and navigate to Device Manager → Basic Network Settings.
Uncheck the check box "Obtain IP from DHCP Server"
Input your own IP Address, Subnet Mask, Gateway, DNS Server and HTTP Port manually.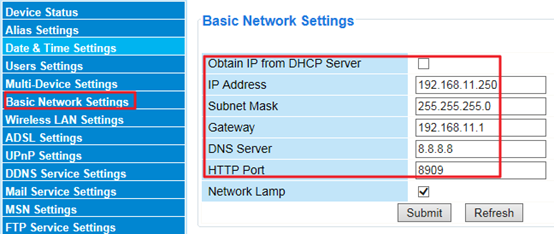 Step 2: Enable the DDNS of the camera.

Navigate to Device Manager → DDSN Server Settings
Enable the manufacturer's DDNS by checking the checkbox for Enable. Once this option is enabled the DDNS should be displayed in the Device Status Page.

DDNS Status is not showing success? See here
Step 3: Configure port forwarding on the router the camera is connected to.

Login locally to the router the camera is connected to.
Setup port forwarding using the IP address and http port that were configured for the camera in step 1.
For more about how to setup port forwarding, see here
Step 4: Verify if the port is open or not on the router.

This can be accomplished by visiting a website such as
www.yougetsignal.com/tools/open-ports/
Once the website has been opened click "Check" to see if the port configured is now open.
Once the port is open it can be checked and then the user can use their own DDNS and port to access the camera remotely on a computer.
For example, using an external IP Address example: WAN IP and port also works… e.g. http://58.251.146.211:8909
Finished all above 3 steps correctly, but the test port is closed? Click here for additional troubleshooting steps.