First of all, we suggest to use our new software Foscam VMS which does not need any plugin to view and manage the camera on computers.
Please go to https://www.foscam.com/downloads/app_software.html download and install it. If you insist to login the camera with web browsers, please continue to see below.
This article will introduce the problem of Security settings on MacOS that prevent the proper web browser plugin from being installed and run under Safari to access video on Foscam cameras. When the security settings are set to high "the plugins.pkg" cannot be installed because it is identified as being from an unidentified developer.
Follow the steps below to correct this.
Step 1: Adjust the Security Settings.
• Click the Apple Icon on the Finder.
• Navigate to "System Preferences" -- "Security & Privacy" -- "General".
• Click the lock icon on the lower left corner.
• Enter the User Account Name and password.
• Select the option Allow application download from Anywhere.
• Save the changes.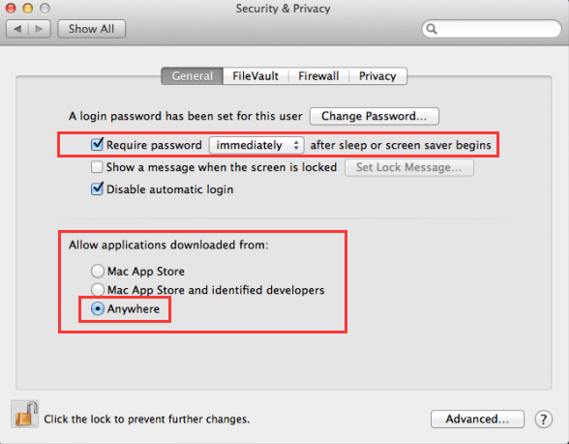 Step 2: Adjust Safari Security Settings
• Open Safari
• Navigate to "Safari" -- "Preference" -- "Security" -- "Manage Website Settings"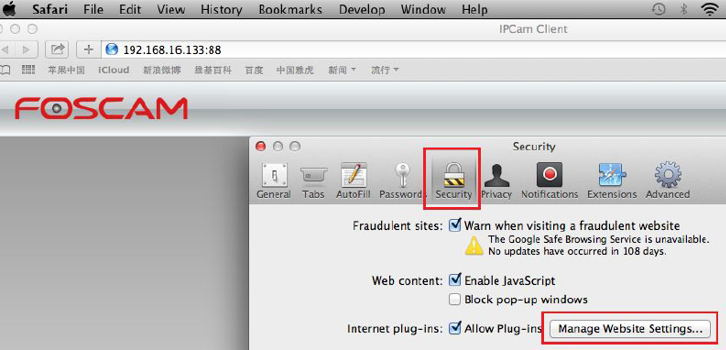 · Choose the downloaded plugin and click Allow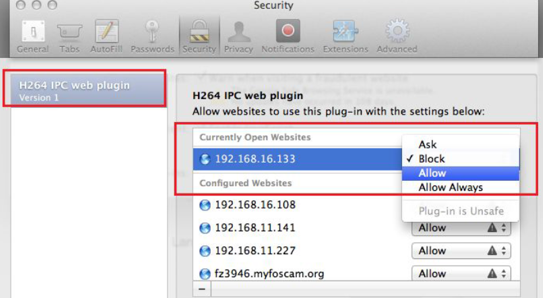 · Quit Safari completely. Re-start Safari and attempt to login to the camera again. At this point in time the web browser should be executed by Safari and full access to the camera will be possible.


· Note:
For MacOS Safari 10.12.4 and later be sure the firmware of the camera is updated before proceeding.