At times software download outside of the Mac App Store may need to be installed and executed on MacOS. This article will introduce the steps to take to allow Foscam software to run on this operating system with a minimal amount of problems.
Earlier versions of Mac OS have the option under the Security settings to allow for apps to run from anywhere. Enable this option to allow Foscam software to be executed
Step 1:
Navigate to Security and Privacy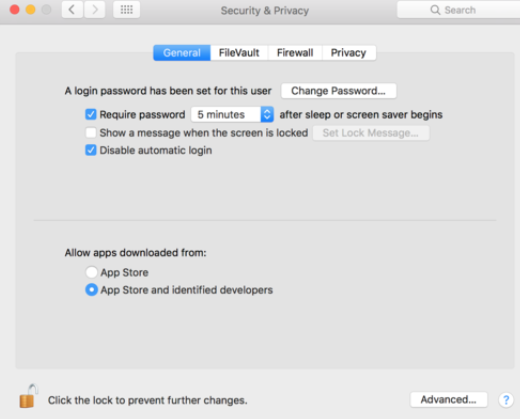 1) Click on the button App Store and identified developers.
2) Using the finder manually locate the Foscam App to be launched. (DO NOT use Launchpad will not allow access to the shortcut menu.)
3) Control Click the app icon.
4) Choose the option to Open from the Shortcut Menu.
5) The app is now added as an exception to the Security Settings.
6) In the future simply double click the app to open it.

An exception can also be granted for a blocked app by clicking the "Open Anyway" button in the General Pane of Security and Privacy. This button will only be available for an hour once it is enabled.
To open this pane, navigate to Apple menu > System Preferences, click Security and Privacy, then click General.
Reference link: