This article will introduce the steps to set up the Guard Position on the Foscam FI9828P V2. After the configuration process is completed the camera is set up to return to a user configured position known as the Guard Position. This is the surveillance position the camera returns to after a cruise cycle is completed or when the camera stops moving.
Note: Please be sure to login to the camera with a web browser before proceeding. Any Pop Up Blockers that may be running on the web browser must be disabled or they will interfere with the setup process.
Setup Steps:
1) Navigate to the Video Feed page of the camera.
2) Click the Preset button followed by the + button to add a new preset.
3) Click Guard Position and select preset as the Guard Position

4) Navigate to the Settings Page to set a time for the Guard Position
5) Click PTZ followed by Guard Position Settings.
6) Select a Start Up Time and click Save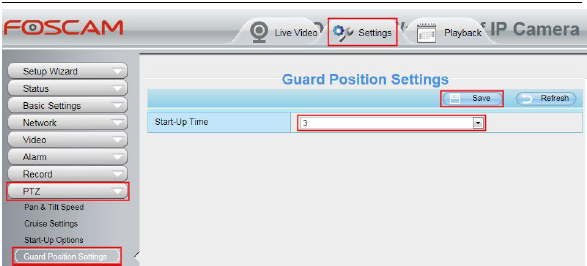 Example: A start up time is set to three minutes. After the camera completes a cruise cycle and stops moving, it automatically returns to the Guard Position after a three-minute delay.