Overview: This article will introduce the steps to set up a Foscam SD camera to send alarm emails during alarm events.
Note:
Login to the camera webpage first via a computer with a properly configured web browser. Be sure to disable any pop up blockers that are running on the browser otherwise this procedure may not work.
Step 1: Setup the email service settings.
• Before applying the following settings for the email configuration verify that the email account to be used is setup for SMTP settings. Obtain the SMPT server settings, SMPT port settings and document the TLS information.
• Open the link to see common email provider settings here:
http://www.foscam.com/Faqs/view/id/51.html
• After logging into the homepage for the camera navigate the web browser to the Mail Service Settings Window.
• Enter the appropriate information for the Sender, Receiver, SMPT Server, SMPT Port, Transport Layer Security (TLS) SMTP User (same as sender) and SMPT Password (Email password),
• Once completed be sure to click the "Submit" button to save the changes/updates to the configuration.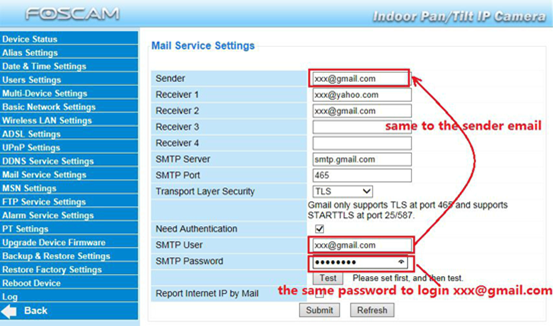 Click on the "Test" button to test the configuration of the email settings.

Note:
1) Make sure to click the "Submit" button first before clicking the "Test" button to save the configuration.
2) Verify that the email test is successful.
Technical Note: To verify that the test is successful verify that a test email was sent to the email inbox of the Receiver Email Account.Also, the Sent folder of the Sender email account can be checked in the event a Spam filter stops delivery of the message.
Step 2: Configure the Alarm Service Settings
• Navigate to the Alarm Service Settings page and enable the "Motion Detection Alarm and check the check box "Send Mail on Alarm' to enable this setting. (do not check Upload Image on alarm at this moment in time)
• Configure and verify the settings of the Scheduler and Motion Detection Sensitivity if this has not already been setup.
• Click the "Submit" button to save the settings to the camera.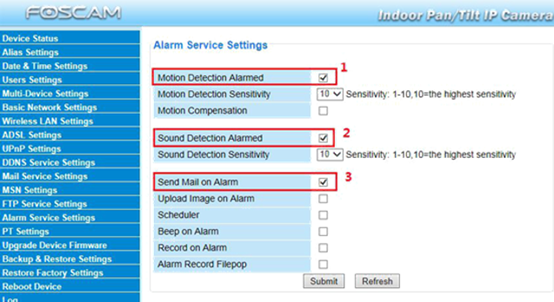 At this point when the camera detects a motion activated alarm an email will be sent to the account configured for email alerts.
Note:
1)If the alarm scheduler has been configured the camera will only email alarm alerts and send pictures during the established timeframe.
2)If the alarm scheduler has not been configured alerts and pictures will be emailed during ALL motion detected events.