Cloud Service

Brief Introduction
Cloud Storage
Motion Detection and Alert Messages
Motion Detection and Alert Messages
As a Foscam IP camera and official APP "Foscam" user, you can get two kinds of real-time alert push notifications on your Foscam APP: one is called "Message Push", which will pop up on your phone or tablet just like messages you get from other apps; the other one is "Rich Media Message Push", an advanced technology which will directly send you real-time alert push notifications with real-time snapshots, keeping you stay connected with the newly events and never missing something important.
What's the importance of alert push notifications?

At the very beginning, users can receive email notifications for the alerts from the IP camera on the condition that he/she has configured relevant parameters of the e-mail on the local devices already. However, email notifications may sometimes cause delay and users can check the content only by logging in their email from the third-party, which is quite inconvenient
However, if all the users can receive alert messages from a certain cloud platform like mobile APP, it will be much more convenient for them to keep notice of the alerts timely from their home, office or factory. And if this function comes true, on the one hand, user experience will be dramatically enhanced in that users needn't configure too much parameters before experiencing the function only by open the button; on the other hand, the timely and real-time alert messages can help prevent intrusion immediately so as to avoid property loss.
What can Foscam cameras detect in various conditions?
Foscam camera can help witness things happening around it and detect motions, sounds, temperature(Baby Monitor only) and humidity(Baby Monitor only) as well. It will send you motion alerts and sound alerts to keep you master what matters most.
Sound Detection
If you turn on sound detection for your camera, it can detect noise and sound around itself while sending alert messages to you via APP to keep you informed of each abnormal condition.
Foscam cameras feature motion detection which can help keep an eye on what matters most at home, office, factory, store, etc. And till now, Foscam camera support three kinds of motion detection--- Motion Detection, PIR Detection, Motion Detection for specific zone.
Motion Detection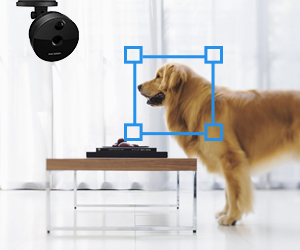 This is a basic detection type that can automatically detect moving objects and trigger alert. When danger occurs or a motion is detected, the camera witnesses it and send alert message to you via FTP or mobile APP. If you open the motion detection for the camera on your APP, it will automatically cover all areas within its line of sight by default.
PIR (Passive Infrared Sensor) Detection
Foscam camera has advanced PIR detection that can help you keep an eye on things, and it can send you an accurate motion alert when it detects motion.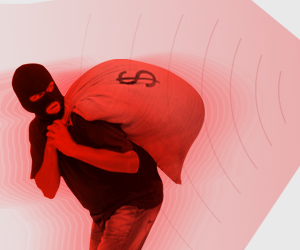 "A PIR, which is commonly called simply for Passive Infrared Sensor, is an electronic sensor that measures infrared (IR) light radiating from objects in its field of view. They are most often used in PIR-based motion detectors." A PIR-based motion detection is used to sense movement of people, animals, or other objects.
PIR detection detects changes in the amount of infrared radiation impinging upon it, which varies depending on the temperature and surface characteristics when the objects in front of the sensor, thus triggers detection and alert.

With PIR detection, it can help distinguish humans, animals from objects, dramatically lowering the rate of false alarm. And some Foscam cameras have been already equipped with this kind of PIR tool to enable users to accurately monitor home without being annoyed at receiving false alerts with blowing leaves.

Models that support this PIR detection at present are mainly indoor cameras like C1, C2. Yet, for outdoor cameras, our R&D team are doing pre-research and trying to make an early realization.
Motion Detection for Specific Zone
Foscam camera features motion detection for specific zone. This kind of motion detection can pay closer attention only to a specific area that you are most interested in. It will send alert message immediately to your mobile APP only when motion is detected in this zone.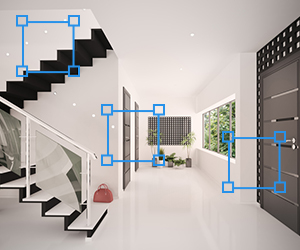 This allows up to 3 specific zones within your camera frame to focus where the motion detection should be captured. You can use motion detection for specific zones to do things like getting an alert if there is motion around your doorway, whether your elderly parents are fine, or if your little kids go back home or not.
By using this kind of detection, you need to do some settings for your camera on your local devices , and then the alert message will timely be send to your mobile APP. And we're trying to make some changes to realize directly setting operation on mobile APP for convenience consideration.
How does Foscam Cloud send alert messages?
Message Push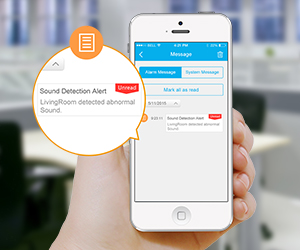 Foscam IP camera can detect sound and motion around itself and trigger prompt alert; straight after, it will immediately send an alert message to you mobile APP to make you notice of what happening at the first time. In this message, you can get the type of detection (sound or motion), time for the detection as well as the place that the detection happens in the form of words. You can check the alert message whenever you want in the message interface in the Foscam APP.
Rich Media Message Push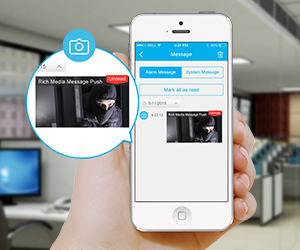 Foscam Cloud adopts an advanced technology, Rich Media Message Push, which is a new message type that can send alerts message with real-time snapshots to your mobile APP. This kind of vivid message can keep you always stay connected with the newly events by real snapshots, but also enable you to make accurate judgment for taking further actions.
One thing you should notice is that, every brand new IP camera which is newly added to your Foscam Cloud account comes with a 30-day free trial of Rich Media Message Push function, therefore, you can receive real-time alerts with 30 snapshots at most per day and save them for 7-day for a later view. After 30 days, your free trial will end. However, if you have already been a Foscam Cloud storage user, you'll experience alert message with unlimited real-time snapshots all for free, and save them for the days according to your subscribed package; otherwise, you'll no longer receive any alerts with real-time snapshots.

What you have to do is to make sure your camera version is updated to the version of 2.x.1.18 or above. And up to now, models that support Rich Media Message Push are C2, R2, R4, FI9900P, FI9900EP. More models will soon be covered.
For more information, please visit Foscam website at www.foscam.com or www.myfoscam.com.