Overview: This article will introduce the process of setting up schedule recordings on a camera added Foscam NVR system. After the schedule is established and configured the system will record videos during a scheduled timeframe onto the hard drive of the NVR. Two different methods of configuring this are covered in this article.
Method 1: Configuration via a web browser.
Login to the NVR system via a web browser
Navigate to Settings → Schedule Record to schedule a recording.
1)Select the corresponding channel that you would like to setup to store scheduled recordings.
2)Enable Schedule Recording from the drop down menu so it indicates Yes
3)Select the timeframe in which the records are to be scheduled; the selected timeframe will be marked in red.
4)Click the Save button to save the configuration information.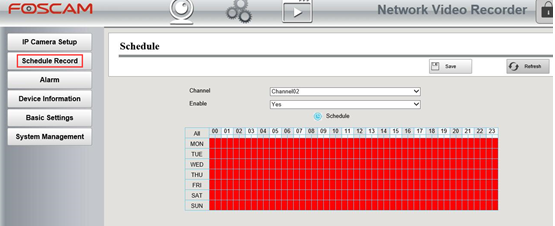 Method 2: Configuration via the Monitor

In this setup, the NVR system is connected directly a monitor, keyboard and mouse. Login directly to the NVR and the configuration settings will be done via the mouse.
Navigate to Menu → Settings → Schedule via the menu interface.
The Schedule Interface will now be displayed.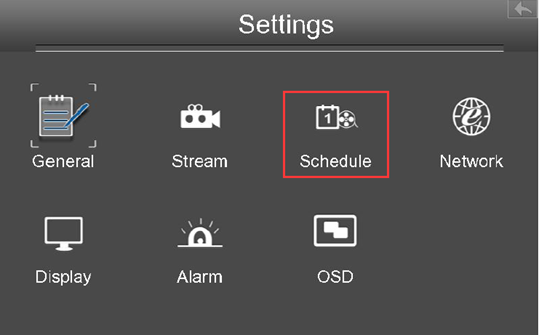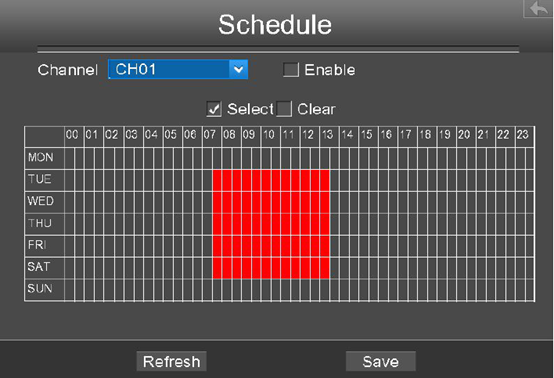 1)Select the Channel of the camera to configure for the recording.
2)Check the Enable check box to enable the scheduled recording function.
3)Check the Select check box.
4)Drag the mouse while holding down the left button to select the timeframe from the chart to select the timeframe to record. The selected area to record is indicated by the color red.
5)Click the Save button to save the configuration for this channel.
6)Repeat the procedure to record multiple channels by selecting a different channel and repeating steps 1-5.