First of all, we suggest to use our new software Foscam VMS which does not need any plugin to view and manage the camera on computers.
Please go to https://www.foscam.com/downloads/app_software.html download and install it. If you insist to login the camera with web browsers, please continue to see below.
Overview: This article will assist with the process of installed the NVR web plugin on the Safari browser(browser verion lower than 12) which is the default web browser on MacOS.
Technical Note: This web browser plugin only supports Safari (browser verion lower than 12) on OS X. Other browsers such as Google Chrome and Mozilla Firefox running on MacOS are currently not supported.
Step 1: Search for the IP address of the NVR using the Foscam software Equipment Search Tool
• Connect the Foscam NVR and the Macintosh to the same network.
• Launch the Equipment Search Tool from the Macintosh
Note: The Equipment Search Tool software can be installed with the CD included with the camera or it can be downloaded from
http://www.foscam.com/download-center/software-tools.html

Step 2: Direct the Safari web browser to the GUI Interface of the Foscam NVR System

Note: Double clicking the Foscam NVR link under the Equipment Search Tool will launch the default browser currently configured in MacOS
Launch Safari and enter the IP address into the address bar followed by the port number for the NVR System to access the web interface.
Step 3: Download and install the NVR plugin.

Note: Be sure all pop up blockers are currently disabled otherwise the web link will not appear. If a pop up blocker was enabled turn it off and refresh the page. If the link still does not appear clear out the recent browser cache and close the browser. Launch the browser again with the pop up blocker disabled and navigate to the NVR page as before. The message for the plugin should now appear on the web page.
• If this is the first-time logging into the NVR system a link is going to appear on the screen "Plugins are not found, Click me to download."
• Click on the link to download the appropriate software.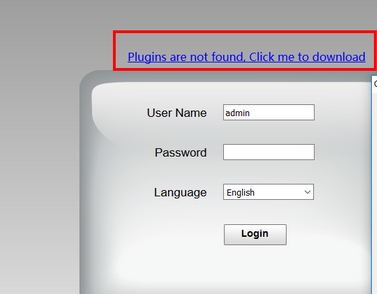 • Double click to install the plugin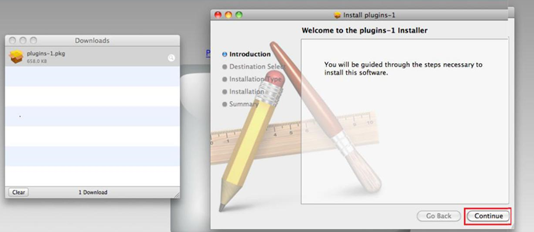 • After the installation process is completed close Safari and restart it to enable the plugin. Be sure Safari completely closes and the indicator in the dock indicates it is no longer running. Once this is confirmed launch the browser again and input the IP address information into the address bar.
• Input the username and password of the NVR to log in.
(The default username is admin with no password. If the NVR is currently using the factory settings you will be required to enter a new username and password before it will allow you access.)
• After a successful login configuration options are available or the video should now be available to view.