Overview: This article will introduce the procedure of setting up the wireless configuration on a Foscam camera using the Foscam app while the camera is connected to a router via an Ethernet cable.
Note: In some cases, this method may be the best solution to connect a Foscam camera to an older
wireless
router which does not support the standard method of adding a camera wirelessly. This method has also proven to be effective during situations where the connectionconfiguration for
wireless
has proven to be difficult.
Pre-conditions:
Be sure the following steps/conditions are met before proceeding.
1)Connect the camera with an Ethernet cable directly to the wireless router.
2)Maintain a distance between the camera and wireless router of 2-5 meters (6-12 feet) maximum.
3)Verify the cellphone is connected to the wireless router's 2.4GHz wireles. (If your Foscam camera supports dual-band wireless, your cellphone can connect to either 2.4GHz or 5.0GHz wireless.)
4)Verify that no special characters are used in the
wireless
password. These include characters outside of A-Z and 0-9.
Step 1: Add the camera to the Foscam App.
Refer this page for add camera to Foscam app firstly in LAN.
Proceed to Step 2 if the camera has already been added to the App.
Step 2: Navigate to the Live Video page and click on the Settings icon to proceed to the camera settings.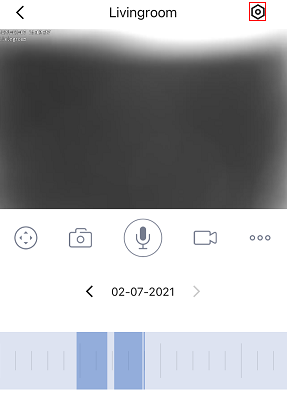 Step 3: Find the WiFi Settings Icon and click on it to access the settings page.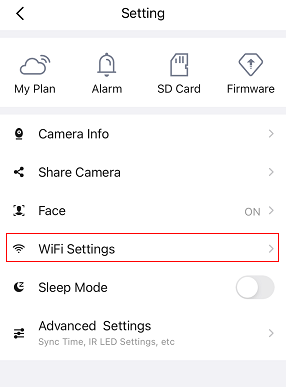 Note: At this point the internal
wireless
adapter of the camera is scanning nearby WIFI networks to show what networks are currently within radio range of the camera.
Step 4: Find and select the correct WIFI SSID. The app will prompt for the WIFI password. Be sure to enter the password correctly and click the Connect button.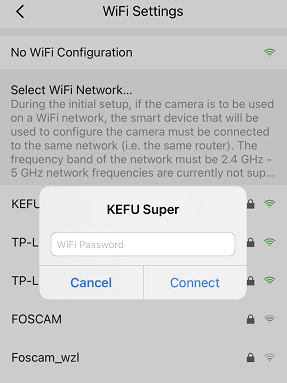 After the above steps are completed standby for approximately 30 seconds before unplugging the Ethernet cable from the camera. After unplugging the Ethernet cable the
wireless
module in the camera should take over and attempt to login to the
wireless
network. The camera should reappear on the Foscam app after a few minutes.
Unable to connect to video after unplug Ethernet cable?
See this page.