This article will introduce the process of setting up an alarm recording configuration on CMS software using HD cameras.
Step 1: Setup the Motion Alarm Settings.
• Click on a camera and navigate to
Settings
--
System
--
Motion Detection
.
• Click Enable
• Choose Record for Alarm Action
• Set the Alarm Schedule
• Set the Alarm Area
• Click on
Save
once all the settings are completed.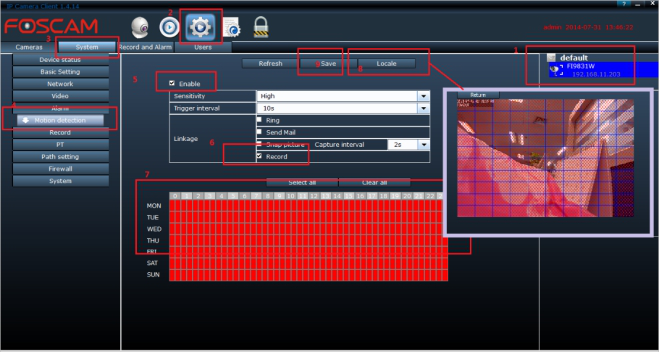 Note:
1) DO NOT forget to set the alarm schedule which is indicated in red.
2) DO NOT forget to set the alarm area which is indicated in red grids.
3) Verify the camera time is set correctly otherwise the schedule times will not be recorded during the correct timeframe.
Step 2: Enable Local Alarm Record
Note: No SD card option will be available under the Storage Location listings. If the camera supports an SD card option local or FTP must be selected as the storage path.
• This process will outline how to save alarm records to the local hard drive.
• Check the checkbox for Enable Local Alarm Record located at Local Alarm Record under the Record menu.

Step 3: Setup the Storage Location
· Click on the camera and navigate to Settings--Record and Alarm.
· Select/configure the Storage Path of the directory to save the alarm recordings under Record Path
· Click Save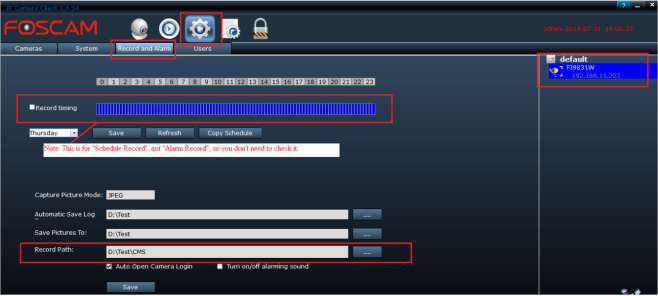 Note:
Blue Record timing is for Scheduled Recordings and NOT Alarm Recordings
If there is a Motion Triggered event the camera will indicate an alarm and alarm recordings will be recorded in the storage path.