This article will introduce the process to set up and view a camera on CMS Software IP Camera Client Version 1.4.14. This will be accomplished using DDNS or WAN IP. Verify that the camera's remote access settings are completed before moving forward with this process.
Step 1
Launch the Foscam Client Software. Navigate to System → Camera and click Add Camera.

a pop up Window will appear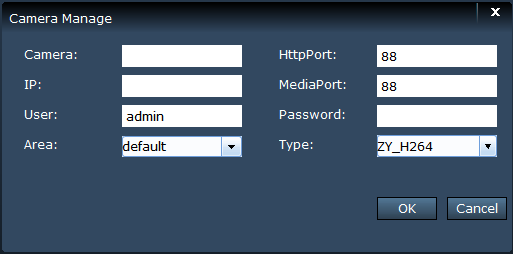 Step 2
Input the IP, port, username and password of the camera you are currently configuring in the Window and click OK.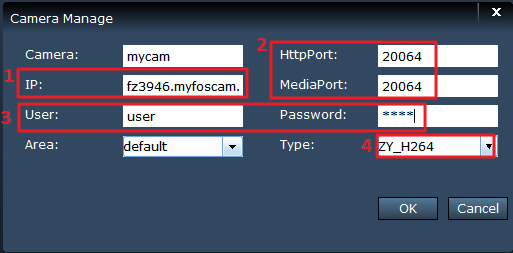 Note:
1.IP is the external IP address for the camera or the DDNS of the camera.
Example: 182.253.101.33 or ab1234.myfoscam.org.
2. Input the camera's HTTP port and the Media port is the same as HTTP port.
3. Input the username and password of the camera. (Both are case sensitive and must be input as the same as logging into the camera.)
4. Area: leave it as default
5. Camera Type: MJ cameras should be selected as MJPEG / HD cameras choose ZY_H264.
Step3
Navigate to the Live Video page and on the left side click default to open a folder. The camera which was just added will now be displayed. Click on the camera icon to connect to it and view the live video feed.