This article will introduce the process of adding cameras to the Foscam IP Camera Client 1.4.14 which are connected to the Local Area Network (LAN)
Step 1:
Launch CMS software and input the username and password for the software.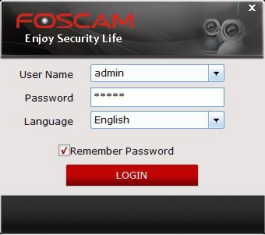 Step 2:
Navigate to Settings → Camera / click Search Cameras to find all the cameras present on the LAN.

Step 3:
Select the camera to be added, then click Add camera. And the Camera Manage window will pop up. Input the basic information for the camera and then click OK.

Note:
1) The Media Port is the same as the http port.
2) Input the username and password for the camera.
3) Leave the "Area" blank unless on has been created.
4) Field type MJ Cameras = MJPEG / HD Cameras: ZY_H264
Step 4:
Return to the Live Video page, On the left area window select the drop-down default area. Click on the camera icon to connect.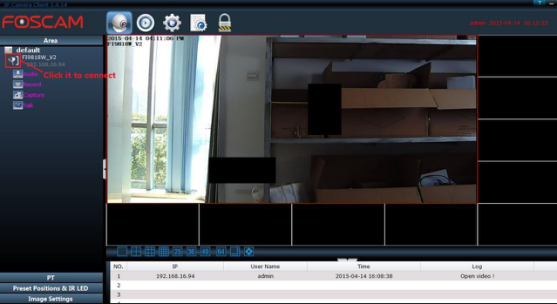 Attention:
If the four buttons aren't shown (audio, record, capture or talk) like the above screenshot something was not configured properly. Verify the username and password for the camera was entered correctly. Double check the cameras by logging into the individual camera using Internet Explorer or Safari to make sure they are working correctly.