This article will introduce the process of viewing several cameras on the same screen when they are located on the same network.
Before proceeding please be sure to login to the camera which is considered the primary camera on location. If there is a HD PT camera present be sure to use that camera as the primary camera.
On Foscam VMS:
Step: Setup multi-camera function
Login to main camera's page. Click multi-camera option. As shown in below picture.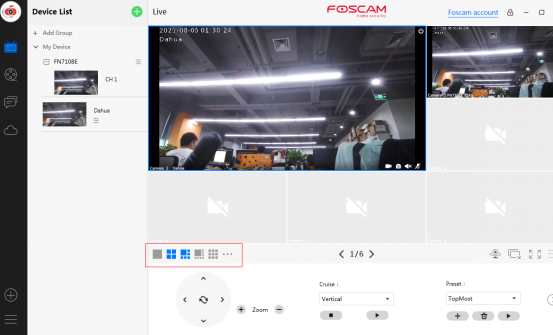 On PC browser:
Step 1: Setup multi-camera function
Login to main camera's web page.
Navigate to Settings-->Basic Settings-->Multi-Camera menu.
Note: On the Multi-Camera page, all the Foscam devices can be searched which are connected. The first camera by default is the one logged into. Additional cameras can be added for monitoring. The software can support up to nine cameras at the same time.
Click the 2nd camera and choose it from the cameras in the LAN list. The Alias, Host and http port boxes will all be filled in automatically by the software. Simply enter the correct username and password to access the camera and click Add.
1.Camera Model: choose H264 for HD camera, MJ for MJPEG camera
2.Camera Name: a designation name for the camera
3.Host: camera's LAN IP, for example 192.168.15.130
4.HTTP Port: the camera's http port number
5.Media Port: same as HTTP Port number
6.Username and Password: the camera's login username and password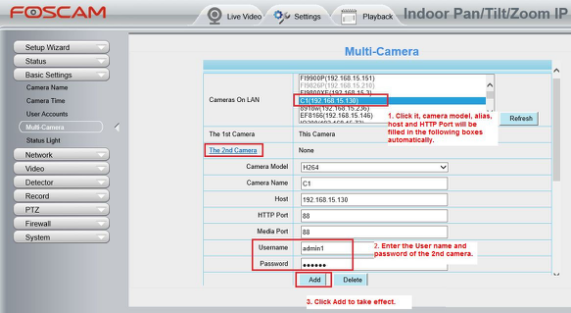 Note: If you have both MJPEG cameras and HD cameras, please use HD camera as main camera.
If HD and MJPEG cameras are present on the same network be sure to use the HD camera is the primary camera. Add additional cameras to the list as needed.
Step 2: View Multiple Cameras on one page.
Login to the main camera and click on the multi-camera view option (4 or 9) on the left panel. At this point, all of the cameras that were configured via this main camera will now be visible on the scree