This article covers the basic steps to save a scheduled snapshots to the FTP server or SD card.
Please be sure you are logged into the camera with a web browser before proceeding to the steps below.
Note: For FTP applications, be sure to setup FTP settings on camera first.
Step 1: Navigate to Settings → Video → Snapshot Settings
1)Select FTP or SD Card from the Picture Save To dropdown menu
2)Check the checkbox for Enable time to capture
3)Set the Capture Interval example: 2 = upload a picture every 2 seconds
4)Set the schedule for the timeframe for snapshots to be uploaded

On Foscam VMS: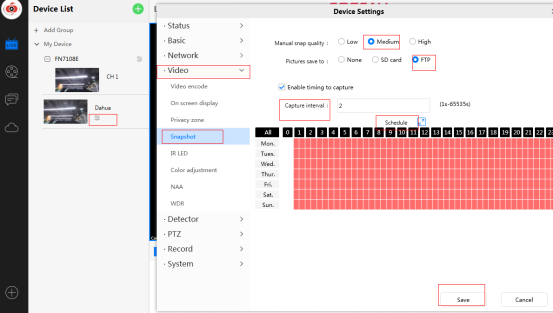 On PC browser:

After the snapshots are saved to either the FTP server or the SD card, they can be accessed separately from the camera and viewed.